sharebigfile.com_nokia_hard_library_v1[1].0_by_blackattack
DOWNLOAD
HWK Repair Tools, download here
---
to use a clone is not good, a clone is a temporrary solution which can be destroyed any time or even can destroy your mobile phone, so i suggest to users always to use the original. In this way you support the coder and you help making the product better and you have always an up to date product. For those want buy original HWK, please visit
www.sarasbox.com
the only trusted source to buy HWK.
Since few members of HWK team are cheaters, is this release necessary!
HWK Updater V1.1
- Fix Self-destructed for Original and Trial HWK
- Fix RASKALIZED-FIRMWARE-DETECTED problem
- Fix RASKALIZED-20$-NOT APPLICABLE
The latest software installer for HWK you can download from here:
http://rapidshare.de/files/10932588/..._Tool.rar.html
Here is a small tools for all the ones have TRIAL HWK, Raskalized HWK and self destructed HWK. Use it ONLY if you have TRIAL HWK or your original HWK is allready damaged (self destructed) and you resellers like cheater Odia, cheater Narry or cheater Gobi refuse to replace it.
Attention
- this software is free, do not ask for any updates
- use this software on your own risk
- we are not responsable for any damage caused at you box
- we have tested it on several boxes and for us works
- this is not a original SarasSoft/HWK Team software
- this soft does not work for shorted pins solution
- if you do not like this software, please do not use it
pass:-
kishtwar

IMEI Maker V1.0d
DOWNLOAD
Nokia 1202 Direct unlocker for UFS
---
mobileEx full cracked

no Emulator needed
No damaging the system
tested by me working 100/100

Memrory Card data Recovery is a powerful digital image and photo recovery software to recover lost or deleted digital photos, images, pictures and multimedia from all types of digital media including digital cameras, SmartMedia, CompactFlash, Sony Memory Sticks, IBM Micro Drives, Flash cards, harddisk, and others. Supports JPEG, TIFF, PNG, GIF, BMP, RAW Images, Canon CRW, Nikon NEF, Kodak DCR, Minolta MRW, Fuji RAF, AVI, MOV, MPG/MPEG, WAV, MIDI.
http://www.digitalleo.com/downloads/...overysetup.zip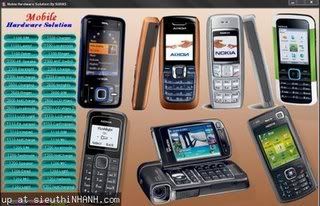 1110, 1100, 1112, 1110i, 1208, 1209, 2300 etc..........
http://*******.com/pz9uge
http://urlhawk.com/4shared
http://urlhawk.com/depositfiles22
Nokia DCT-4 Security Code Reader v1.03 Without Box
http://gsmmalik.in/forums/attachment...5&d=1228738961
NOKIA DCT4 CONTACT SERVICE HARDWARE OR SOFTWARE EASY TO FIND WITH UFS+HWK
1)CONNECT UFS+HWK
2)SELECT DCT4 TAB
3)USE INFO BUTTON(SOME TIMES PHONE NOT ENTER LOCAL MODE JUST LONG PRESS POWER BUTTON
4)CHECK INFO DETAILS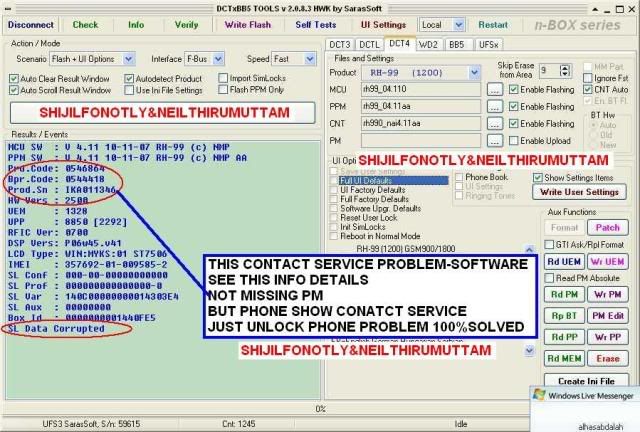 5)SL DATA CORRUPTED(MEANS SIMLOCK ENABLED)
6)JUST UNLOCK PHONE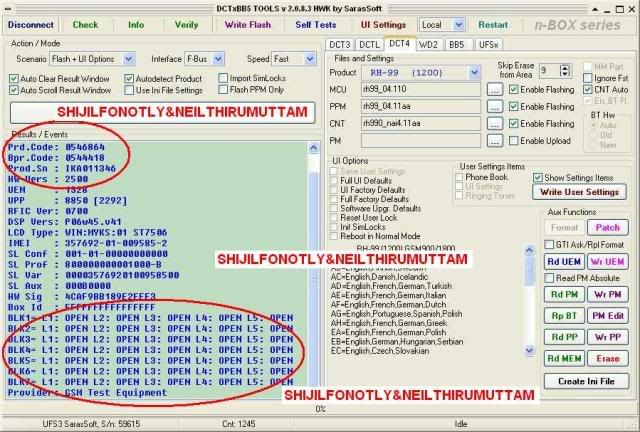 SEE SECOND PICTURE INFO DETAILS 100%DONE.BUT PHONE STILL SHOW CONTACT SERVICE
7)CONNECT SET
8)RUN SELF TEST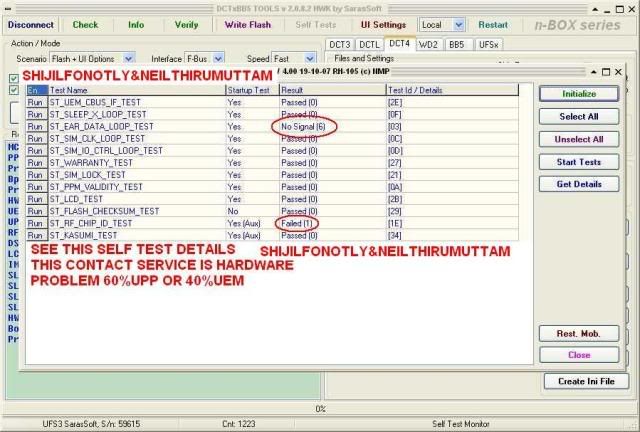 SEE THIS SELF TEST DEIALS
EAR _CLK_LOOP TEST----------NO SIGNAL
RF CHIP ID TEST---------------FAILED
THIS CONTCAT SERVICE HARDWARE PROBLEM
HARDWARE CHANCE
60%UPP
30%UEM
10%OTHERS LIKE BSI ETC...........
SEE ANOTHER SELF TEST DETAILS
LCD TEST-----------FAILED
RESONS LCD MISSMATCHED
JUST CHANGE DISPLAY NO NEED TO FLASH&UNLOCK ETC.............
REGRADS
SHIJILFONOTLY&NEILTHIRUMUTTAM(NOKIA.REPAIR.MASTERS .TEAM)
1)CONNECT UFS+HWK
2)USE INFO BUTTON
SEE THIS SCREEN SHOT
SEE THIS RED MARKED AREA.CONTCAT SERVICE RESONS LOST PM FILE
1)UPLOAD PM
UPLOAD DONE!!!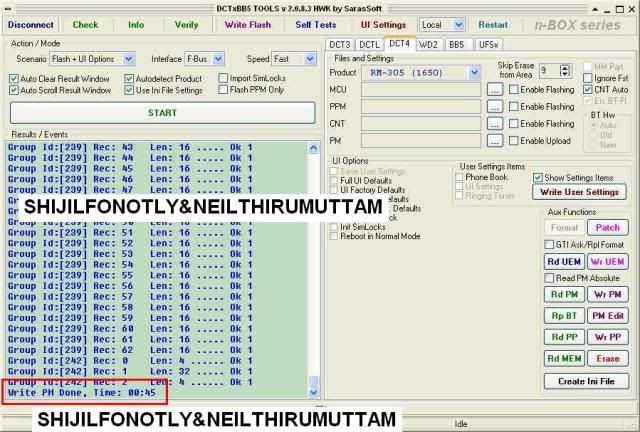 SL DATA CORRUPTED
PROVIDER NOT FOUND
MEANS SIM LOCK ENABLED
UNLOCK UR PHONE
UNLOCK DONE CONTACT SERVICE PROBLEM SOLVED
REGRADS
SHIJILFONOTLY&NEILTHIRUMUTTAM(NOKIA.REPAIR.MASTERS .TEAM)
REGRADS
SHIJILFONOTLY&NEILTHIRUMUTTAM(NOKIA.REPAIR.MASTERS .TEAM)